---
Black Water Tubing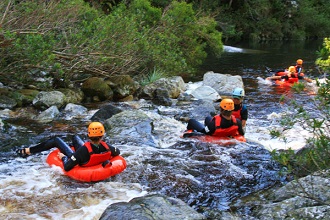 Black water Tubing is a unique, fun filled adventure, including tube paddling and balancing, swimming, tube tipping, nature walking, birding and rock jumping. Although similar to 'kloofing' it is dis-similar in that stormsriver tubing caters for the wild and the mild adventurer as all rock jumps are optional as are rapids on high water. Blackwater Tubing is a unique adventure into an untouched presine rocky gorge in the heart of the Garden Route - The indigenous forest section of Tsitsikamma National Park. Whether it's a full day or half day experience you are looking for, black water tubing is a fun filled adventurous experience for the whole family.
---
Rates & Information
The quick and easy half day will give you a good taste of adventure with a bucket load of fun. With a fraction of the physical exertion of the full day trip you'll take to the tea coloured waters of the upper Storms River. We spend 1-2 fun filled hours pool paddling and rock jumping along the safest and widest section of the river.
Includes
Wetsuit, helmet, tube & guides, transport to and from activity in Storms River, park fees & refreshments
Booking Enquiry
The gorge expedition is the real deal and is a must for the fit and fun loving adventure seeker. Once past the point of no return, you're into is the 'Narrow Gorge' and the only way out is 4-5 hrs later at the spectacular Storms River Mouth in the world famous Tsitsikamma National Park.
Includes
Wetsuit, helmet, tube & guides, transport to and from activity in Storms River, park fees & refreshments
Booking Enquiry
---