---
Ocean Adventure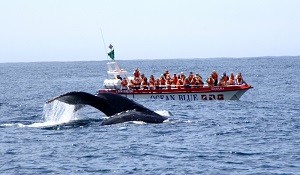 Situated in the coastal town of Plettenberg Bay (20 minutes from Knysna), The operator offers a rare and powerful experience through permitted boat based whale watching & dolphin encounters. All tours are guided with expert crew and tour operators who are internationally qualified. The operator is a licensed SABBWWA permit holder, which enables them to approach whales from 50 metres instead of 300 metres. Should the whales approach the vessel they do not have to move away. The guests therefore get an up close experience with these majestic mammals in the bay.
---
Rates & Information
In summer you have a great chance to see the rare Humpback Dolphins found in only certain areas of the South African coastline! You will also see Bottlenose Dolphins and Common Dolphins… You will also be taken to the Robberg Seal Colony where you will see around 5,000 seals in their natural environment.
Includes
Still water will be provided. Coffee and Tea on arrival and departure will be provided. Guide and skipper (on booking please specify if you require a German guide). Hydrophones will be available to ensure an adventure of a lifetime.
Booking Enquiry
In winter you have a very high likelihood of seeing Southern Right and Humpback whales. Our tours include the Robberg Seal Colony (home to +- 5000 seals) and other marine life of the day.
Includes
Still water will be provided. Coffee and Tea on arrival and departure will be provided. Guide and skipper (on booking please specify if you require a German guide). Hydrophones will be available to ensure an adventure of a lifetime.(01 July – 10Dec)
Booking Enquiry
---