---
Skydive Parys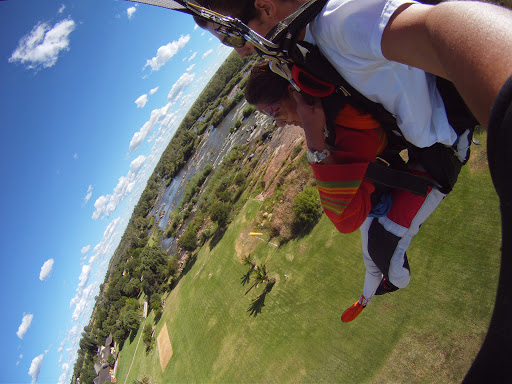 Skydive Parys is unquestionably the most scenic and historic place to experience the spectacular, exhilarating and thrilling Tandem Skydive. Our team of highly professional and qualified Tandem Masters will take you from 0-200km/h, for an unforgettable freefall experience. At a safe altitude the Tandem Master will deploy the parachute for a 5-7 minute canopy flight, to the Drop Zone on the banks of the Vaal River.
Skydive Parys is South Africa's most scenic inland Skydiving venue.
Skydive Parys boasts spectacular 360* views of the famous Vredefort Dome, a World heritage site.
A unique experience to land on the banks of the Vaal River and to enjoy our top class facilities @ Stonehenge in Africa, River side lodge.
Exit the aircraft In the Freestate province and land in the North West province. 2 provinces, 1 Skydive.
---
Rates & Information
Tandem Skydive from 10000ft with Digital Movie and Photo's New Aircraft the Apollo T (Turbine) During the week Minimum of 4 people required
Includes
Tandem Jump; About 45 seconds free fall; 5-8 minutes parachute ride; Stills and Movie
Booking Enquiry
---
Directions
From Johannesburg follow the N1 towards Bloemfontein. Pass through the Grassmere Toll Plaza and continue along the Highway. After crossing the Vaal River you will be in "The Free State". Take the Parys / Sasolburg off-ramp and turn right at the top of the bridge. Travel approximately 20km kilometres into Parys. When you enter Parys, keep right at the Stop. At the first robot, turn right onto the Potchefstroom / Fochville Road. Continue over the bridge, crossing over the Vaal River again. Turn left onto the Kopjeskraal Road. Skydive Parys @ Stonehenge in Africa is 7 kilometres down the road on the left hand side.
S -26° 54' 24.9206" / S -26.9069224
E 27° 28' 55.344" / E 27.48204