---
River Cruise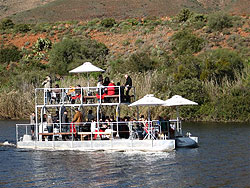 Blessed with a stretch of easy flowing river through Viljoensdrift presentes an ideal opportunity to use it for leisure purposes. Join us for a Breede River Cruise including a picnic and informal wine tasting.
---
Rates & Information
Trail your feet in the cool waters of the Breede River, while toasting the good life with a glass of Viljoensdrift wine on board their elegant flat-bottomed river boat named Uncle Ben 2.
The hour-long meander along the river, flanked by indigenous Breede River Yellowwood and Wild Olive trees teeming with a variety of bird species, sets the scene for a leisurely riverside experience. Fill your picnic basket to the brim with sumptuous fare from our deli, add a bottle or two of Viljoensdrift's fine wines and enjoy your picnic during your trip down the river. What better way to spend a laid-back afternoon with family and friends?
Includes
Purchase a picnic at the launch
Booking Enquiry